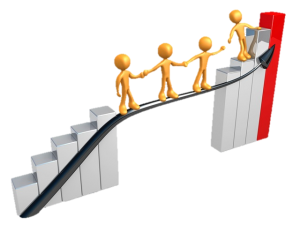 Helping You Reach Your Potential
Provide cost-effective business and IT capability and value management solutions and services, fueled by years of experience and insight, and powered by built-in knowledgebase.
Our goal is to help you accelerate your organizational maturity. We are sharing our experiences and thought leadership in what we deliver and how we deliver.
People are driven by their needs, not ours.
Every decision is made as if we have a stake in success of your organization. The best compliment we have received, "I didn't know, you are not an employee."
Believe in knowledge transfer.
Our value-add is to bring you the next thing, not do the same thing again and again.
Begin with the end in mind.
There is not enough time in the day to listen to the noise. We focus on the decisions at hand, and go after the quality and relevance, not quantity of information.
Mitovia's principals have decades of business and IT experience across various industries and government. Below is a short list of people with extensive body of knowledge and drive to bring new solution and practices for planning and managing Business and IT capabilities and performance.
ATUL AGRAWAL, CEO, a habitual entrepreneur, brings over 25 years of business experience in managing IT and providing IT Services to large public and private organizations. In addition to Mitovia, Atul is also CEO at Object CTalk, specializing in management and consulting services for federal and state agencies. Atul is an expert in Information Technology Governance including IT Portfolio Management, Architecture Planning, Technology Life Cycle Management, Business and IT alignment, and Project Portfolio Management. He has an extensive experience in ERP, SCM and CRM implementation. He has MS in Industrial Engineering and Management.
DINESH KUMAR is CTO at Mitovia and Principal at the Innovation Value Institute, leading development of next practices in capability and value management. Dinesh also teaches Technology Business Management to students of MBA and Masters in Information Systems at Stevens Institute of Technology. Recently, he co-authored a book on Achieving and Sustaining Secured Business Operations. He brings over 30 years of experience in leveraging Information Technology for Business Value. Dinesh has a patent pending on capability-driven, service-oriented enterprise architecture planning. He has presented strategies for business-IT alignment and IT portfolio management at various conferences and in MBA classes at MIT and Penn State University. Previously he has held various sales, consulting and IT management roles at Microsoft, Informix and Unisys. Dinesh has an MBA degree from Penn State University and MS in Computer Science from Rutgers University.
NEELESH AJMANI is Chief Services Officer at Mitovia. He brings 27 years of work experience solving critical business issues in public and private sectors with expertise in Digital Transformation, Risk Management, Secured Business Operations, Strategic Planning, Organizational Design, Agile Program Management, Enterprise Architecture and Information Management. Recently, he co-authored a book on Achieving and Sustaining Secured Business Operations. Prior to joining Mitovia, Neelesh worked at Cisco for 15 years in various service development and delivery roles. He has MBA from San Jose State University, and MS in Computer Applications from Jawaharlal Nehru University, India. He is certified in Advanced Program Management from Stanford University, PMP, TOGAF Enterprise Architecture, and ITIL V3 Expert.
JIM BOOTS is a Principal at Mitovia. He brings twenty-five years of experience in business and in process design and improvement. He is also a Principal at Global Process Innovation and at the Innovation Value Institute, providing thought leadership in the area of process management. Previously, Jim was responsible for building Chevron's Business Process Management foundation. He has authored many articles and a book on Business Process Management. He has extensive international experience and is a sought-after conference speaker and workshop leader.
JOHN HOLMES is a Principal at Mitovia. As an ex-CIO with a long history of driving innovation in business and IT processes, he brings his passion on improving enterprise capability and innovation management across all aspects of an organization.
RAM RAMACHANDRAN is a Principal at Mitovia. He is also a CTO and Partner at Ramanis Consulting Services LLC. Ram specializes in service management, capability assessment and planning, benefit management, IT portfolio optimization, governance, cross-organizational project management and solution development methodologies. He has Masters in Computer Engineering & Material Science from RPI and an undergraduate from IIT-Bombay.
ASK A QUESTION / CONNECT WITH US
we have expanded the assessments, body of knowledge and capability accelerators across business and IT domains. Contact us for a conversation or to see how we can help you accelerate your business outcomes.